The Wives
The six Russian literary wives profiled in this book went well beyond the call of duty to help their adored author-husbands.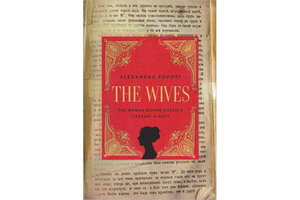 The latest book from Alexandra Popoff – author of the recent good biography of Sophia Tolstoy – is comprised of six short biographies of great Russian writers, from Fyodor Dostoevsky to Aleksandr Solzhenitsyn, and the wives who stood behind them, women who did an awful lot of work to present, promote, and preserve their husbands' work. The women profiled in The Wives all admired their author-husbands before they married them, and for a few of them – Anna Dostoevsky, Elena Bulgakov, Nadezhda Mandelstam – the marriages occurred after their devoted work for the authors had already begun.
The key word is "devotion," in that the women, for the most part – let's exempt Sophia Tolstoy and Nadezhda Mandelstam – almost completely gave up their own interests and subsumed their lives to their husbands'. The only living subject – and the only one whom Popoff was able to interview – Natalya Solzhenitsyn, criticized Sophia Tolstoy's independent streak: "'She should have followed him and lived in a hut, as he had asked.' 'If Sophia loved Tolstoy, she had to go along; if she stopped loving him 'she had to step aside.'" I would like to forgive Ms. Solzhenitsyn's condemnation of a woman who gave birth to and cared for many children, who lived remarkably modestly considering her social status, and who gave 48 years of love and care to her husband while copying his manuscripts and publishing his work. Sophia Tolstoy's admiration of her husband's fiction justified, to her, some of her many labor-intensive tasks: "As I copy I experience a whole new world of emotions, thoughts and impressions...." When in the 1880s Tolstoy begrudged fiction his attention, she begged him (as the world did) to go back to it. Popoff's presentation of the Tolstoys' marriage is excellent.
---