The Lucky Ones
One author's fight for farm animals.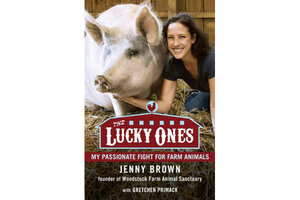 Many years ago, while studying in France, I visited an outdoor market. Up till then, vegetarianism was to me a quirky habit: farm animals were for eating. But when I witnessed chickens, rabbits, and other gentle creatures caged and trembling with fear, seeming to know only too well what was about to happen to them, it was a transformative moment. Since then, I've become a vegetarian.
This makes me an ideal audience for The Lucky Ones: My Passionate Fight for Farm Animals. But nonvegetarians shouldn't turn away too quickly. This book is a page turner. It's an absorbing and inspiring autobiography, and it's also a love story – between author Jenny Brown and the animals she wants us not to eat. In addition, it's an eye-opening behind-the-scenes look at our food industry.
Brown begins "The Lucky Ones" with her own saga, how, as an active 10-year-old girl, part of one of her legs was amputated during an illness. Then she shares how, through pluck, and with the love of her family and of Boogie, her cat, she was able to persevere. Her introduction to animal advocacy took place in the frothy atmosphere of her college orientation week. She happened to pick up pamphlets from PETA (People for the Ethical Treatment of Animals). Later she determined that "animals in the dairy and egg industry actually have worse lives than their meat-producing counterparts." So she moved from vegetarianism to veganism.
---