Resilience
While some of the language is cumbersome, Andrew Zolli's book is a good place to start to understand the global economy.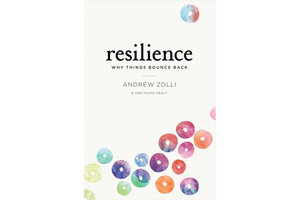 By Andrew Keen, for The Barnes and Noble Review
At the beginning of Andrew Zolli's Resilience: Why Things Bounce Back, he introduces us to Mexico City's "tortilla riots," an event that Zolli describes as "an archetypical experience of the 21st century." In January 2007, the price of corn (the principle ingredient in tortillas), having risen 400 percent in the prior three months, triggered a protest by tens of thousands of people in Mexico City's main squares. "Tortillas sí, pano no!" the demonstrators chanted, Zolli explains, in an ironic protest against the ruling PAN Party of the then president, Felipe Calderón.
But, as Zolli -- who is best known as the director of the global innovation network PopTech -- notes, neither Calderón nor PAN were to blame for the skyrocketing price of corn. The cause of what Zolli describes as a "potential humanitarian and political crisis" lay further north, on the Gulf Coast of the United States, where in August 2005 Hurricane Katrina tore through Texas and Louisiana, disrupting 95 percent of oil production in the region and triggering a congressionally mandated fivefold increase in the production of the alternative biofuel ethanol.
---