'Shiloh 1862' and 'The Long Road to Antietam'
Writer Winston Groom illuminates the personal side of a battle in 'Shiloh,' while Richard Slotkin's 'Antietam' is an eye-opening view of an engagement and a war.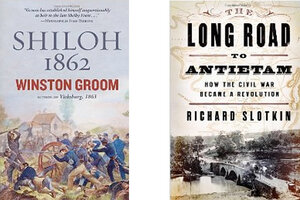 Back in the 19th century, Americans had a quaint way to express how it felt to confront "something novel, huge and terrible." They referred to it as "seeing the elephant."
Two fine new histories offer gripping accounts of how ordinary men met herds of elephants on the battlefields of the Civil War.
A century and a half ago, next to a Maryland creek called Antietam and in the Tennessee wilderness near a church named Shiloh, tens of thousands of soldiers learned about the horrible powers of a new kind of warfare. Death came not only from rifles and bayonets but from above, courtesy of exploding shells, heavy cannonballs, and knife-sharp shrapnel.
Meanwhile, back in Washington, D.C., and Richmond, Va., politicians grappled over strategy while a besieged man named Lincoln faced the very real risk of a military coup at the hands of a young egomaniac with a terminal case of "the slows."
Like much of the Civil War, the biggest battles of 1862 are familiar territory. But the authors of both these books offer unique perspective that make them page-turners even for those who know exactly what will happen.
Winston Groom, a historian and novelist best known for writing "Forrest Gump," tackles the earlier of the battles – the first "great and terrible" one of the war – in Shiloh 1862. He devotes little attention to politics, but instead focuses on military strategy, the civilians affected by the battle (including a memorable little girl stunned by soldiers in her midst) and the combatants themselves. Not just the ones with stripes, although they get plenty of attention, but also those with nothing more than shoes and the clothes on their backs, or even less than that.
---