South Wind
Washington Post critic Michael Dirda weighs in on Norman Douglas' classic "South Wind" a 1917 novel that makes for hilarious and "utterly pagan" beach reading.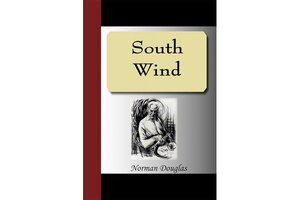 By Michael Dirda, for The Barnes and Noble Review
Shortly after South Wind first appeared in 1917, George Saintsbury – then the doyen of English literary critics – sent a short note to Norman Douglas. Many editions of the novel reproduce this letter:
Dear Sir,
Permit me to be tedious, as well as illegible. I am seventy-five. I have read more novels than a man of seven hundred and fifty ought to have done. For some twenty years I used to review hundreds or thereabouts of English and scores of French as they came out. For another twenty, the first of this so-called age, I have come across just two new novelists who have given me something that I can recommend to a friend. The author of South Wind is the second in order of time, not rank.
That's quite a compliment to pay a writer approaching fifty who, up until then, had never written any fiction aside from a few short stories and was mainly known for his travel books about Italy, Siren Land (1911) and Old Calabria (1913). But did Douglas speculate, as I often have, about the identity of the other novelist that Saintsbury so admired? Possibilities include Joseph Conrad and Ford Madox Ford, both of them, as it happens, friends and champions of Douglas. The former's Nostromo appeared in 1904 and the latter's The Good Soldier in 1915. But are they really "new" enough authors? That said, I don't quite see Saintsbury admiring D. H. Lawrence, whose Sons and Lovers came out in 1913 and The Rainbow in 1915. E. M. Forster? Possibly. Howards End appeared in 1910. No, my guess is that Saintsbury would have gravitated to Arnold Bennett, especially his 1908 masterpiece The Old Wives' Tale. Whatever the case, we sometimes forget how much of our greatest fiction was written in the two decades just before the great modernist triumphs of the 1920s. These Edwardian and early Georgian novels, however, do tend to be old-fashioned in form and quite serious in intent, telling character-driven stories, raising complex ethical questions, and shot through with human unhappiness and disaster.
---