Diaries
Much of the material in George Orwell's 'Diaries' is of interest only to the most obsessive of Orwellians.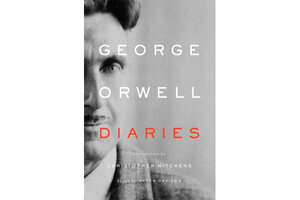 Saints should always be judged guilty until they are proved innocent. George Orwell penned that terrific line, and its principle should be applied to him, as well. Few other non-fiction writers have been as canonized as Orwell. One critic said he wrote like an angel, while another called him the most influential political writer of the twentieth century.
Now we have a new work by which to assess Orwell. His diaries were included in the 20-volume "Collected Works of George Orwell," but they are presented alone here for the first time. Eleven diaries are included, varying in length and quality, from August 1931 to September 1949.
Let us be as clear as Orwell always was: Much of the material in the Diaries is unreadable to all but the most serious of Orwell completists. Half the book – literally, half – is comprised of Orwell's recordings of the weather, his diet, gardening habits, and unremarkable conversations with unknown individuals. June 22, 1939's entry is typical: "Cold all day & very windy. Dense mist in the morning. Did nothing in garden. 14 eggs." Perhaps a biographer could make use of such quotidian entries, but it is hard to see how anyone else can profit from them.
Christopher Hitchens writes in the introduction – the last commissioned article penned by Hitchens before he died earlier this year – that the "Diaries" "furnish us with a more intimate picture of a man who, committed to the struggles of the mechanized and 'modern' world, was also drawn by the rhythms of the wild, the rural and the remote." True enough, but intimacy does not equal insight. One could, for instance, read about a man's bathroom habits without gaining any further understanding of his character. Some details are simply unnecessary.
The most that can be said about Orwell's recordings of the ordinary aspects of his existence is that they show how much he simply loved to write, and how much he loved nature. But both facts were already well-known and do not require hundreds of pages to allow us to discern them.
---