The Fight For Home
In 'The Fight for Home,' Daniel Wolf lets Katrina survivors tell their stories in their own words, and the result is revelatory.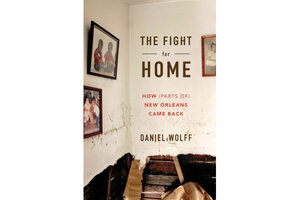 The devastation wrought by Hurricane Katrina has few equals in the annals of US natural disasters: The third strongest hurricane ever recorded to make landfall in the US when it struck on the morning of August 29th, 2005, it quickly submerged 80 percent of New Orleans under water, destroying over 140,000 homes, killing 1,836 and causing $81 billion in damages, making it the most costly hurricane in history.
So it's no wonder that there are a rash of films and books and songs and works of art devoted to Katrina popping up all over. And I don't expect this trend to let up anytime soon considering the fact that this natural disaster exposed aspects of our nation and our culture that many had ignored for far too long.
Hence The Fight For Home: How (Parts of) New Orleans Came Back. Author Daniel Wolff chronicles the trials and tribulations of an interesting cross section of people and communities throughout New Orleans as they struggle to rebuild their lives and homes in the aftermath of Hurricane Katrina. Wolff, who was initially part of a documentary film crew, got permission to go into the hardest-hit neighborhoods of New Orleans after the floods receded and record what he found.
For five years Wolff visited and revisited the devastated neighborhoods of New Orleans, mostly in the Lower Ninth Ward, talking to the same dozen or so folks, narrating their stories through their words. More a transcript than a reportorial account, "The Fight For Home" tenaciously and colorfully, like the survivors themselves, exposes the initial trauma and despair, and the subsequent anger, frustration, joy and exaltation of their plight. This is a historic document.
---