Gravity's Engines
With 'Gravity's Engines,' Caleb Scharf establishes himself as one of the finest space storytellers.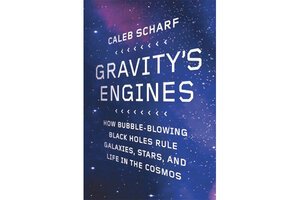 In free market economics, the theory of "creative destruction" is considered a necessary linchpin in understanding how capitalism works. No matter how nostalgically attached we may be to certain fixtures in our world, change is inevitable and ongoing. In order for the new to emerge, the old must give way – sometimes its reign overthrown through jarring, unpleasant acts of usurpation.
So, too, with what scientists hypothesize about the universe. One day, they speculate, even Planet Earth may be swept away by forces that are utterly indifferent to our own existential desire for longevity and having the same home in perpetuity.
It could involve a strike by asteroid, though among all known agents of cosmic creative destruction, none are more potently menacing – and intriguing – than black holes, the subject of Caleb Scharf's Gravity's Engines: How Bubble-Blowing Black Holes Rule Galaxies, Stars, and Life In The Cosmos.
"Among all the conceptions of the human mind, we have really outdone ourselves with these objects – they are fantastical, dreamlike, and mythological in stature," Scharf writes. "But they are much more than just a tall tale – they are a vital and active part of all that we see around us."
Scharf, who is director of the astrobiology department at Columbia University, is gifted in his written musings on celestial phenomena which have appeared in Scientific American magazine and other venues. His primary passion is joining colleagues from around the world in the search ofr solar systems, much like our own, that may harbor planets with life. With technological innovation – i.e., stronger telescopes – the odds of eventually finding one appear to be good.
In "Gravity's Engines," Scharf hits the bull's eye in his analysis of the latest ponderings on black holes, the arcane understanding of which has risen to public awareness largely through Hollywood science fiction films and most notably franchises like "Star Trek."
---