Solo
'Solo' – a no-holds-barred, tell-all autobiography – has already rocked some boats.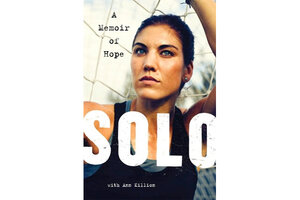 Hope Solo is not the type of person to write anything other than a no-holds-barred, tell-all kind of autobiography. That is exactly what Solo: A Memoir of Hope, written with columnist Ann Killion of SportsIllustrated.com, delivers: a behind-the-scenes account of the good, the bad, and the ugly of Solo's challenging personal life and that of her many years as a goalkeeper for the US women's national soccer team.
Knowing that the release of such a life story might ruffle some feathers and be a distraction, national team coach Pia Sundhage asked her star keeper to delay the book's release until after this summer's London Olympics. Sundhage even was prepared to bench Solo if she didn't comply, according to an e-book epilogue to the memoir.
The post-Olympic release, as it turns out, has only enhanced public interest and helped it to become an immediate bestseller. Why? Because while the book ends with the US loss to Japan in the 2011 World Cup final, in London the American squad defeated Japan, 2-1, to win the gold medal – the ultimate hook for readership.
The game drew 80,000 spectators to Wembley Stadium and was watched by millions of viewers around the world. The afterglow continues as the team heads into the first of three post-Olympic matches in the US, beginning with a sold-out match Saturday (Sept. 1) against Costa Rica in Rochester, N.Y.
---