My Berlin Kitchen
Blogger Luisa Weiss's celebration of German cuisine separates 'My Berlin Kitchen' from the pack of food memoirs.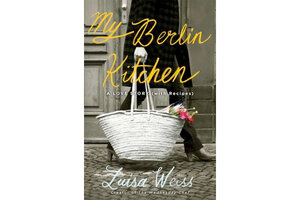 As Proust made clear, food can be a powerful trigger of memories. Luisa Weiss, the only child of an Italian mother and American father, spent her early childhood in still-divided Berlin and grew up further split between Boston and Europe after her parents divorced when she was three. She discovered that cooking – and later, writing about food – were a way to integrate her various national identities and to find her way home.
My Berlin Kitchen is an offshoot of Weiss's popular food blog, The Wednesday Chef, which she began in 2005. Inspired by Julie Powell's blog about her year of cooking her way through Julia Child's "Mastering the Art of French Cooking" (which became the enormously successful book and movie "Julie and Julia"), Weiss' project was to chip away at the piles of recipes she'd clipped from various newspapers' Wednesday food sections. Like many bloggers, she found her voice – a mix of personal journal and cooking diary – and her audience, which in turn led to this book.
Part memoir and part love story about both her indirect path to Mr. Right and the foods that comforted her along the way, "My Berlin Kitchen" bears more in common with Amanda Hesser's charming "Cooking For Mr. Latte" than with Powell's book.
---