The Long Walk
'The Long Walk' is a powerful, intimate, disturbing look at the ways that war can infect the life of a soldier.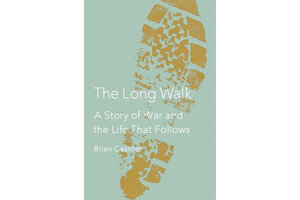 Non-fiction subtitles are tricky; it's difficult to accurately sum up a book in just a couple words, and Brian Castner's memoir, The Long Walk, is no exception.
Castner, an Air Force officer who served three tours in the Middle East, has chosen "A Story of War and the Life That Follows," as a subtitle for his debut work. At first glance, this tagline implies a trajectory from the frontlines to home front, a fifty-fifty split between war and its aftermath. But Castner's book is about war, full stop. By the end of the story, we've learned almost nothing about his wife, or children, or his daily life as a civilian. Instead, we've watched him fight a deftly drawn series of battles, from the physical, to the emotional, to the existential. Each one of these is more intense and wrenching than the last. "The Long Walk" is not for the faint of heart or the weak of stomach. But if you want an intimate look how war can infect a life, then this is it.
Castner spent two of his three tours commanding an explosive ordinance disposal unit in Iraq. He is the real-life version of Jeremy Renner's character in "The Hurt Locker," the guy whose job it is to search out hidden explosives and, under the hostile gaze of rooftop snipers and frustrated Iraqi civilians, dismantle (i.e. detonate) them safely. "The Long Walk" refers to those perilous moments when the solider must approach an IED on foot. It is the last resort of bomb dismantling, taken only after the military's high-tech robots have broken down or been blown to smithereens.
---