The Great Unexpected
Sharon Creech's latest work – a mystery poised somewhere between fantasy and reality – is a true literary treat for ages nine and way up.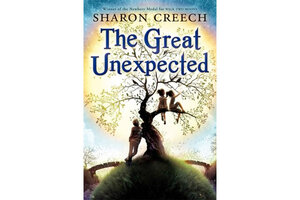 The short prologue introducing this delightful novel promises exactly what the best books for children should contain – that we'll find our own stories, or at least stories we wish were ours, within its pages. Never mind the debate about whether young readers are most likely to skip over these occasionally prosaic first paragraphs. When a story begins like this one, you don't want to miss a word, and you can bet you are in for a literary treat.
Newbery medalist ("Walk Two Moons") Sharon Creech's newest novel for readers ages nine and up (way up, I'm convinced) hovers somewhere between fantasy and reality. Two orphaned girls – Naomi, the mostly sensible one, and Lizzie, who can "talk the ears off a corncob"— live happily in the little town of Blackbird Tree, where calamities seem to crop up everywhere. So it should be no surprise when an Irish charmer, a young lad by the name of Finn, drops out of a big tree and straight into their lives. But Naomi and Lizzie, well-loved by their foster parents and best of friends, don't quite know what to make of Finn. He pulls at both their hearts and threatens to come between them, even as the mystery surrounding his sudden appearance both puzzles and entrances the girls.
And that's not the only mystery in The Great Unexpected. There's the stranger who has the townsfolk befuddled – the Dangle Doodle man. A witch who dresses in purple from head to toe. Those unopened trunks in the barn loft that prove the universe spun Lizzie and Naomi together on purpose. And what about the two old ladies revealing their story to the reader from across the ocean, in tantalizing bits and pieces? A story that seems to involve Finn. And maybe even the Dangle Doodle man. How can you stop reading when every word is perfectly chosen and each character's story more intriguing than the last?
---