"Lincoln's Hundred Days" and "Seward"
Two new Lincoln-related biographies offer further evidence that we will never tire of reading about our sixteenth president.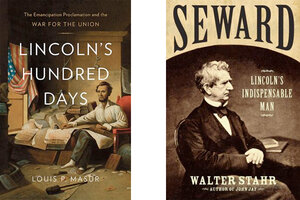 As Americans we know Lincoln's faults and character better than that of any other president. Yet some of us are jarred when we are reminded how much of a politician he was. It's absurd, but we don't like it that the best president in our history was a politician.
No matter the angle, however, no matter the focus on particular events or decisions in Lincoln's life, when we examine his story we always see an earnest human being struggling to know how to do what must be done. Many books about Lincoln have the feel of a novel. We the readers are able to watch him make his difficult way, as we know – even though he does not – that he's doing about as well as an American man in his time could have done.
"That he seemed to take forever to act, that he hedged and hesitated, that he irritated not only his political opponents but also his friends, that he appeared at times to shrink from the unprecedented challenges before him, make the story all the more compelling," Louis P. Masur says in his introduction to Lincoln's Hundred Days, and he's as good as his word. "By revisiting the hundred days between the preliminary version and the final version of the Emancipation Proclamation, we can observe Lincoln as he watched, worried, listened, read, debated, cajoled, prayed and even joked – then made up his mind and marched the nation toward freedom and the light of the unknown."
In Masur's telling, the story of the making of an important yet dull and confusing document is exciting and somehow suspenseful. The Emancipation Proclamation came about as a result of Lincoln's deepest moral reflections and, as Masur shows, by a momentary political and wartime opportunity. Lincoln saw that the curse of America's institutionalization of slavery, which no one thought could be done away with in the 19th century, was suddenly vulnerable.
---