Walking the Amazon
Ed Stafford walked the length of the Amazon, a feat the experts assured him was impossible.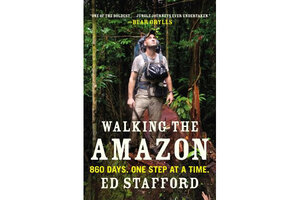 When Ed Stafford was a teenager, his taste for adventure was a bit unconventional. "I have always thrived on danger and adrenaline and sneaking out of my boarding house armed with a wire saw and industrial bolt cutters to cause havoc seemed to be my main outlet at the time," Stafford recalls in Walking the Amazon.
Breaking and entering isn't a great way to pass the time (beyond its anti-social aspects, it's pretty much against the law), so Stafford looked for pursuits that would keep him from spending his life in an office or jail. He joined the British Army and served for four years. He then came home and asked himself: "What would be the ultimate expedition I could ever conceive of doing?"
The answer, of course, is the title of his gripping memoir, which recounts the 2-1/2 years that Stafford spent walking the entire length of South America's longest river, securing himself a spot in the Guinness World Records.
Beyond the sentient threats within the area (jaguars, snakes, piranhas, electric eels, wary indigenous tribes), he had to negotiate harsh terrain that ranged from steep high cliffs to flooded lowlands. And the path he was following – from Peru to Colombia and on to Brazil – cut through the world's largest narcotics-producing areas.
---