Syria
The failures of Syrian autocrat Bashar al-Assad are laid bare by an American academic who once found the regime impressive.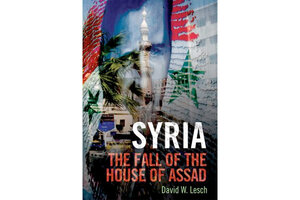 The title of David Lesch's new book is metaphorical. Syria: The Fall of the House of Assad does not predict the political demise of Syrian autocrat Bashar al-Assad, who inherited power in 2000 following the death of his father, Hafez. But Lesch, a Middle East history professor at Trinity University in San Antonio, Texas, maintains that the dictator has damaged his standing irrevocably with his bloody crackdown on an ongoing popular uprising that erupted in March 2011.
That is a damning indictment, given that Lesch met with Bashar on several occasions from 2004 until late 2008 (and with high-ranking Syrian officials until 2011), during which time he formed a relatively positive opinion of his regime. Indeed, in an earlier book – "The New Lion of Damascus: Bashar al-Asad and Modern Syria" – Lesch made it appear as though Bashar would make a definitive break with his father's politically autocratic and economically socialist style of governance. Compare Lesch's volte-face on the Syrian despot with that of Turkish Prime Minister Recep Tayyip Erdogan, who not only strengthened his country's relationship with Syria but befriended its ruler, until Bashar crossed all red lines in his response to Syria's version of the Arab Spring. Turkey now hosts Syrian refugees, opposition activists, and even leading members of the Free Syrian Army, which only recently relocated its headquarters to Syria.
---