Short Nights of the Shadow Catcher
Timothy Egan's book is a stunning portrait of Edward Curtis, the photographer who made it his mission to photograph Native Americans.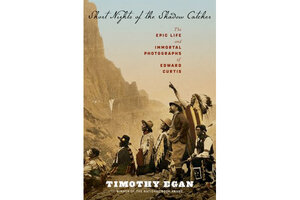 Edward Curtis led a life that would make for implausible fiction. He parlayed a sixth-grade education, a hardscrabble childhood, and boundless ambition into fame and quasi-destitution, simultaneously. At the peak of his success – as he supped with President Teddy Roosevelt and photographed his children, played Carnegie Hall, and convinced J.P. Morgan to be his patron – Curtis was living hand-to-mouth. The banker would pay for some of his expenses, but not a penny in salary.
And virtually every cent of his and Morgan's went to The Cause: documenting – celebrating is probably a better word – the lives and cultures of Native Americans. He accomplished this not simply with his evocative photographs. He also did it in compelling prose, through audio recordings of fading languages, and by using a new medium: moving pictures. These were not potshots. Curtis had to gain the trust of his subjects, who, unsurprisingly, were exceedingly wary of white people in the early years of the 20th century.
Curtis lived with and often like the people he captured on film. He was at home in the wilderness, could travel great distances and endure frequent privations. He dodged eternity now and again, often with his children in tow. In a Hopi snake ceremony, a hissing rattler was gingerly draped about his shoulders.
Curtis saw himself in a mad race to photograph the First Americans before the American Century crushed their spirit and steamrolled their traditional ways. In the argot of the era, as well as in the caption of one of Curtis' most famous photographs, Indians were a "Vanishing Race," drowning in the melting pot. Indeed, such was the intent of the federal government, which criminalized Native religious ceremonies and sought to separate Indians from their culture and communal lands. Often, both Curtis and his photographic subjects were breaking the law.
---