Every Day
'Every Day' is marketed at teens, but the beautifully written love story has plenty of adult appeal.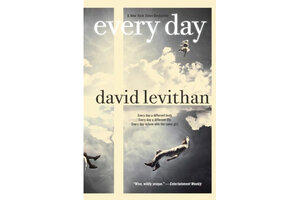 Young adult books aren't just for kids anymore. Just ask the respondents to a study recently released and often recirculated that claims over half the buyers of "teen" books these days are over 18. From "Hunger Games" to Harry Potter, older readers are gobbling up this genre.
David Levithan's fascinating new book, Every Day, is considered a novel for teens. Teens will love it, but I'd wager the appeal reaches far beyond that.
The premise is unusual – and some might say downright unbelievable. For the past 16 years, without warning of any kind, the narrator known only as A wakes up in a different life every single day. The new identity is always A's age, or close to it, but that's mostly where the similarity ends. A can be a boy or a girl, gay or straight, funny or downright cruel. A never gets attached to a family, to a school, or a group of friends.
It's important for A to function in the life he – or she – is given on any day. Therefore he must spend that 24 hours accessing information useful to the current situation. He must imagine he belongs. Or try to. That means forgetting who A was yesterday and all the days before. As he or she transfers identities from person to person, A forgets their details and moves on: "I have to, or else I will never remember who I really am."
So far, this seems to have worked. Then A meets the girlfriend of his body-of-the-day Justin. Her name is Rhiannon, and for the first time A is certain he can't forget this day and this person.
---