The Big Screen
David Thomson's 'The Big Screen' tells the story of the rise and decline of an art form that once played a central role in human life.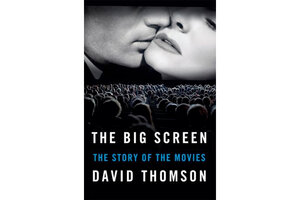 By Troy Jollimore, for The Barnes and Noble Review
The story of the movies is the story of -– fill in the blank. America? Our lives? Modernity itself? Any of these would be an overstatement, but a provocative one; and after all, the movies themselves encourage, even demand, provocative overstatement. It must be their oversized images, the vastness of the emotions they, and we, project onto the screen. (Put aside the fact that the screens are getting smaller. I'll come back to that.) So David Thomson's The Big Screen is a big book about a big subject – a big-picture view of the big pictures – and its subtitle makes a big promise.
In fact, Thomson has been working for years on the fulfillment of that promise, on telling the story of the movies. His compelling, highly readable, and highly opinionated body of work includes "The Whole Equation: A History of Hollywood"; "Have You Seen…?: A Personal Introduction to 1,000 Films"; "Biographical Dictionary of Film"; and "Beneath Mulholland: Thoughts on Hollywood and Its Ghosts" – as well as biographies of figures including David O. Selznick, Orson Welles, and Gary Cooper. He's also written whole volumes on key films: Hitchcock's "Psycho," Howard Hawks's "The Big Sleep," and many others.
---