'Mao: The Real Story' and 'Former People'
Russian, Chinese lives lost in the rush to a new brotherhood.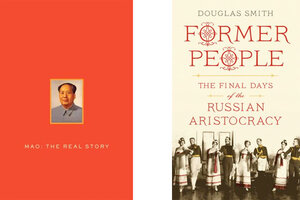 "Communism is not love," Mao Zedong once famously pronounced. "Communism is a hammer which we use to crush the enemy."
When cold-war-era Westerners heard those words, they trembled, assuming that the Chinese leader aimed to flatten them. But two new books out this fall emphasize the horrific degree to which – in both China and the Soviet Union – it was their fellow countrymen that the Communists destroyed instead.
Former People, by Douglas Smith, tells the long-overdue story of the many ways in which the Russian aristocracy was crushed by the Soviet hammer and sickle. Because the subject was forbidden in the Soviet Union until the Gorbachev era, Smith says his is "the first book in any language to examine the fate of the nobility in the decades following the Russian Revolution...."
Soviet leaders decided early on that, postrevolution, Russian nobles should simply cease to exist, and so they dubbed them "former people." (Nicholas Nabokov, exiled noble and father of novelist Vladimir Nabokov, wrote that "former people" was just another way of saying "not yet slaughtered.")
This once-cosseted group (about 1.9 million people or 1.5 percent of the Russian population at the time of the revolution) almost overnight found themselves reviled and powerless. Their servants turned on them, their property was confiscated, and they were jailed and killed by the score.
---