The Smitten Kitchen Cookbook
Deb Perelman's collection of recipes is mouth-watering and, despite a couple of misses, features appealingly homey foods.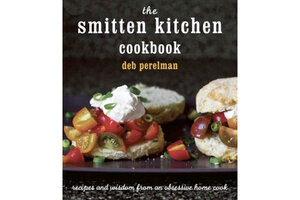 Here's one way to rate cookbooks: by IQ, a measure not of their intelligence but of their Irresistibility Quotient, the ratio of irresistible to less tempting recipes. On that scale, Deb Perelman's Smitten Kitchen Cookbook scores at the Mensa level.
Are you among the five million monthly visitors who have been smitten by the appealingly homey recipes on Deb Perelman's Smitten Kitchen website? If you're wondering why you should spring for her cookbook when you can access hundreds more of her recipes online, complete with enticing photographs and reams of reader commentary, the answer is editing: What we have here is a carefully curated mix of mainly exclusive new recipes plus a few previously posted winners. The result is that wonderfully high IQ.
Although her photographs are mouth-watering, this is not food porn. Perelman, a self-taught cook and photographer, aims at getting you cooking, not just gawking. She's a self-described picky eater and obsessive, and everything she publishes must pass this test: "Will this recipe be really, truly worth it?"
Like the best television cooking show hosts – could that be next for her? – Perelman projects an inviting warmth and chattiness. She's funny – "The squares keep at room temperature for at least a week, although never in my apartment" – and self-deprecating enough to ease your culinary insecurities.
She invites us into her household, with pictures of her toddler son sprinkled throughout: "Welcome. Welcome to my tiny kitchen. Wouldn't it be great if we could all fit in here? I'd make us mulled cider and gooey cinnamon squares. We could talk about pie." Alas, her kitchen is too small. But the message is, if she can produce all this bounty in such a shoebox, so can you.
---