Exiled to Nowhere
Photographer Greg Constantine's images show the human face of the Rohingya, an ethnic minority who find themselves stranded, with no state to recognize them or protect their rights.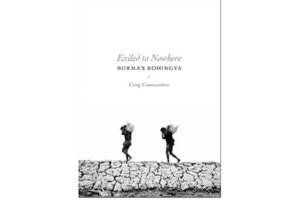 In Exiled to Nowhere, photographer Greg Constantine tells in pictures the little-known story of the Rohingya, a stateless ethnic minority in Burma who have long been denied the most basic human rights.
For nearly half a century, Burma has resisted recognizing the Rohingya as one of the country's indigenous groups. And so far, Burma's recent opening up and reforms have done little to change the situation. As the writer Emma Larkin explains in a foreword to "Exiled to Nowhere," the Rohingya trace their origins back to Arab traders who arrived in northwestern Burma as early as the ninth century. But Burmese scholars and historians dispute the existence of even the word Rohingya prior to 1950. They call them "Bengalis," which in effect designates them as foreigners. They claim that while the British encouraged their migration into Burma during colonial times to work in agriculture, many of today's Rohingyas are recent immigrants from Bangladesh.
Few of the country's estimated 800,000 Rohingyas have been allowed to gain Burmese citizenship. They cannot travel beyond their own villages without permission. Their marriages require government approval, and they cannot enroll their children in regular schools. Rohingya men have provided forced labor to the army and local security forces. Rohingya women have been subjected to sexual harassment. The Rohingya have for decades been largely ignored by the international community except for the work of the United Nations High Commissioner for Refugees (UNHCR).
All of that changed in early June this year when communal clashes involving the Rohingya and the Rakhine ethnic group erupted in western Burma in early June of this year. Both the Muslim Rohingya and the local Rakhine Buddhists suffered serious casualties, about 80 killed in total, by official count. Human rights groups say that the figure is likely to have been much higher. In late October, the violence erupted again, with at least 64 killed by official count and thousands of homes destroyed by fire.
---