'When America First Met China' and 'The Great Railroad Revolution'
Two new books explore how US found its way toward and past the horizon.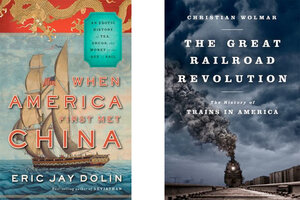 The foreigners looked odd, spoke a peculiar language, and were clearly inferior to the greatest people on earth.
Despite all this, the Chinese decided to deal with the strangers who landed on their shores. After all, these men from Europe – and, later, America – came bearing valuable things like furs and ginseng. And in return, they only wanted porcelain, silk, and tons upon tons of tea.
For their part, American sailors would return home with great shipments of Chinese products. Over time, the imports would eventually make up as much as 20 percent of the items in some American homes.
Toys, T-shirts, and televisions, perhaps? Nope. Think earlier, much earlier. The 20 percent figure, referring to many of the homes in Boston and Salem, Mass., is from the early 1800s. Back then, fantastic Chinese paintings, wallpaper, and dinnerware made up a major chunk of the personal property of Americans who could afford them.
Such are the complications of understanding China's long history with the United States. China, not the US, was burdened with a superiority complex. And the epic influx of Chinese goods, long an issue for American politicians, is hardly a creation of modern times.
When America First Met China: An Exotic History of Tea, Drugs, and Money in the Age of Sail tracks this dicey international relationship from the 1770s through the Civil War era. It's one of two new books – the other is "The Great Railroad Revolution: The History of Trains in America" – that explore how the USA looked toward and beyond its western horizon.
---