The Lost Battles
A fascinating, daring look at Leonardo da Vinci, Michelangelo Buonarotti, and the artistic rivalry that shook the Renaissance.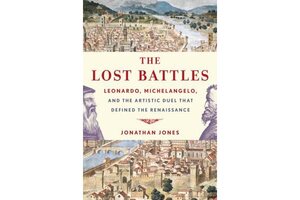 Reviewed by Brooke Allen for Barnes & Noble Review
Leonardo da Vinci and Michelangelo Buonarotti are by general agreement the two greatest artists in European history; coincidentally (or perhaps not, as we shall see), they were near contemporaries and even acquaintances, both products of the art-obsessed Florence of the later Renaissance. These painters represented the culmination, each in his different manner, of the artistic revival that had begun in the 13th century. Inevitably, in this intensely competitive society, they were rivals for pre-eminence in their field. As Jonathan Jones tells us in his fascinating, revelatory, and often daring new study of the rivalry, The Lost Battles, this was a culture "in which ritualized vendetta was practiced as readily by artists as by aristocrats," a culture obsessed "with 'honour,' with the public image of a man and his family, which must not be sullied by insults or slights…. The story that the century's two greatest artists loathed each other found a ready audience."
In the 1540s, more than 20 years after Leonardo's death, an anonymous Florentine author related an anecdote about the two local heroes. Leonardo, it seems, was passing Florence's Palazzo Spini when some of his acquaintances hailed him and asked him to explain a passage of Dante for them.
It happened that just then Michelangelo passed by and one of them called him over. And Leonardo said: "Michelangelo will explain it to you." It seemed to Michelangelo that Leonardo had said this to mock him. He replied angrily: "You explain it yourself, you who designed a horse to be cast in bronze but couldn't cast it and abandoned it in shame." And having said this, he turned his back on them and left. Leonardo remained there, his face turning red.
---