'One for the Books,' 'The Little Bookstore of Big Stone Gap' and 'My Bookstore'
Several fall releases celebrate books and the writers who love them.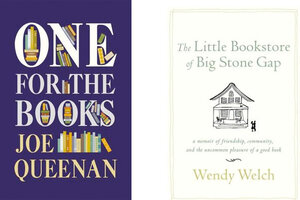 "There is no e-reader or Kindle in my future. My philosophy is simple: Certain things are perfect the way they are. The sky, the Pacific Ocean, procreation and the Goldberg Variations all fit this bill, and so do books."
When humorist and critic Joe Queenan published these words – adapted from his new memoir, One for the Books – in The Wall Street Journal last month, he instantly gained a multitude of new cyberfriends. ("Love love love this!" exulted one Twitter user as she shared Queenan's thoughts with a few thousand of her closest followers.)
Is there an e-book backlash at work here? Or have publishers been pushed into high gear by all those constant warnings about the death of the book?
Whatever the driver, it's hard to ignore one of this season's more notable trends in reading: books about how much we love books.
Queenan's memoir is a passionate tribute to paper-and-ink books as a mainstay of his existence. His reading style (he never consumes fewer than 15 books at a time) is somewhat idiosyncratic. And his tastes (he dismisses Thomas Hardy, George Eliot, and anything recommended to him by a friend) may strike some as offensive. But his enthusiasm is infectious, and his conviction that reading is the act that has given him life and breath will ring true to book lovers everywhere.
Oddly, among Queenan's passionate dislikes are independent booksellers. (He calls them "prigs" and complains that "[t]he only writers they like are dead or exotic or Paul Auster.")
---