Thomas Jefferson
Biographer Jon Meacham captures Thomas Jefferson as a person, not just a historical figure.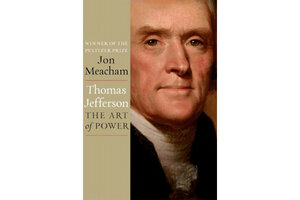 A popular biography of such a well-trod subject as Thomas Jefferson – contained in a single, not overly long, volume – will leave things out. And in this case, the author makes no pretense to new scholarship. But the approach has advantages if well executed. Jon Meacham pulls it off neatly in Thomas Jefferson: The Art of Power, focusing on what matters, on the overriding issues and events as well as telling trivia. He captures who Jefferson was, not just as a statesman but as a man.
By the end of the book, as the 83-year-old Founding Father struggles to survive until the Fourth of July, 1826, the 50th anniversary of his masterful Declaration, the reader is likely to feel as if he is losing a dear friend. Jefferson just makes it, dying on that fateful day. I warn you, there may be tears.
A Pulitzer Prize-winning author honored for a similar treatment of Andrew Jackson, Meacham proclaims his subject "the most successful political figure" of his time. He might have gone further, tagging him as the most important political figure in our history. Beyond his contributions to the Revolution and to America before his defeat of President John Adams in the election of 1800, President Jefferson showed masterfully that the other party could take over and run the country for two terms – change some things, keep others the same – without the world going to rack and ruin. In brave new democratic experiments, the first such transfer of power is always the trickiest.
---