Elsewhere
Richard Russo's memoir of life with his mother is a vivid if devastating portrait of the complicated relationship that overshadowed his life.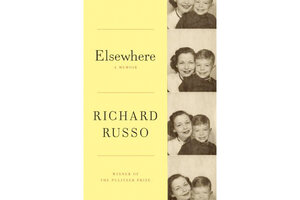 The financial and emotional tolls of caring for aging parents has become a hot button topic for baby boomers. But as novelist Richard Russo, born in 1949, makes clear in his new memoir, carrying the weight of his unstable divorced mother's well-being has been a dominating factor for most of his life.
Elsewhere is actually more his mother's story than his own, which may disappoint fans of this troubadour of small-town, blue collar America. But Russo's evocation of his hometown, Gloversville, New York – for which his mother's hatred "was like the North Star, the one you navigate by, because otherwise you're lost, completely untethered" – provides insight into why fictional stand-ins for this down-at-heels working class town are central to so many of his novels, including Pulitzer Prize-winning "Empire Falls."
Russo's grandfathers both worked in the local leather trade as a glove cutter and a shoe repairman, respectively. In Gloversville's heyday during the first half of the twentieth century, ninety percent of the dress gloves in America were manufactured there. But after the second World War, when women started going out bare-handed and production moved overseas for cheap labor, the local economy was hit hard. By the 1970s, once-prosperous Gloversville had become "a Dresden-like ruin." Only later did Russo realize that his hometown was in fact "the canary in the mine shaft" of American towns and industries dying from the outsourcing of manufacturing.
---