Walkable City
This timely, important book should be required reading for city planners – and anyone simply hoping for a more walkable downtown.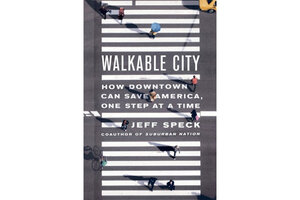 What's Rome got – and for that matter Barcelona, Venice, Boston, San Francisco, Paris, Prague, New York – that my hometown does not? Walkability, that's what! That and, perhaps, a bit more fabric – that is to say, "the everyday collection of streets, blocks, and buildings that tie the monuments [of a place] together."
It is walkability and fabric that make any urban experience rich and vital.
However, according to Jeff Speck, author of Walkable City: How Downtown Can Save America, One Step at a Time, these features are not exclusive to the world's great metropolises. Theycan be achieved anywhere ... in 10 basic steps.
In Part I, Speck, who is a city planner, lays out his "General Theory of Walkability" – i.e., a walkable city is a better place than a drivable one. He also explains what is required to make a walk down Main Street compelling and satisfying: utility, safety, comfort, and interest.
He first discusses the advantages that a walkable city has over a drivable one. No. 1 on the list is a "walkability dividend" that nurtures property values. "Not only have city centers fared better than suburbs [since the Great Recession]," Speck says, "but walkable cities have fared better than drivable ones." Next, there are fitness benefits. "60 percent of residents in a 'low walkable' neighborhood were overweight," notes Speck, "compared to only 35 percent in a 'high walkable' neighborhood."
---