Escape From North Korea
Journalist Melanie Kirkpatrick shares the harrowing stories of North Koreans desperate to escape a despotic regime.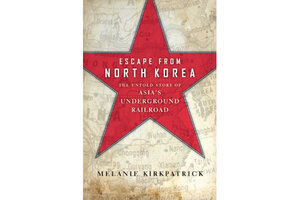 Please allow me to share a so-called North Korean political joke:
"Kim Jong Il and Vladimir Putin ... decide to ... see whose bodyguards are more loyal. Putin calls his bodyguard Ivan, opens the window of their twentieth-floor meeting room, and says: 'Ivan, jump!' Sobbing, Ivan says: 'Mr. President, how can you ask me to do that? I have a wife and child waiting for me at home.' Putin ... apologizes to Ivan, and sends him away.... Kim Jong Il ... calls his bodyguard.... 'Lee Myung-man, jump!'.... Lee ... is just about to jump ... when Putin grabs him and says: '… If you jump out this window, you'll die!...' Lee ... tries to escape Putin's embrace and jump...: 'President Putin, please let me go! I have a wife and child waiting for me at home!'"
Ghastly humor aside, the tragic joke barely disguises the inhumane policies of the world's most secretive, repressive regime. In Escape from North Korea: The Untold Story of Asia's Underground Railroad, former Wall Street Journal journalist Melanie Kirkpatrick documents the desperate, dangerous flight of North Koreans toward an uncertain new life. Drawing parallels with American slaves seeking freedom 150 years and continents apart, Kirkpatrick traces North Korean journeys through a network of clandestine routes, safe houses, and courageous individuals willing to compromise their own safety to help others.
For North Koreans attempting to escape starvation, torture, repression, and worse, the "new underground" begins just over the border in China. Because of China's official political support of North Korea, the Chinese government refuses to recognize escapees as refugees (even though China has signed the Geneva Convention on the Status of Refugees). Nor does China allow the Office of the United Nations High Commissioner for Refugees to operate in the country.
---