'Crossing to Safety': Wallace Stegner's poignant classic turns 25
Wallace Stegner's novel about a decades-long friendship between two couples is just as rewarding on its 25th anniversary as it was when first published.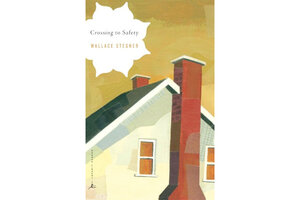 Reviewed by Heller McAlpin for Barnes & Noble Review
It's a good time of year to lose yourself in an absorbing, transportive story that has nothing topical, tropical, stormy, or smarmy about it. Wallace Stegner (1909-1993) may be better known for his 1972 Pulitzer Prize-winner, "Angle of Repose," but it's his last novel, "Crossing to Safety," which quietly celebrated its 25th anniversary this year, that keeps drawing me back. This is the kind of book – the apt first selection for Will Schwalbe's "The End of Your Life Book Club," by the way – that reminds you why reading is such a wonderful solace and escape.
Achingly poignant and nostalgia-steeped, "Crossing to Safety" is about a close friendship between two couples that spans some forty years, for richer and for poorer, in sickness and in health, till death do them part. Taking its title from a line from Robert Frost's poem, "I Could Give All to Time," the novel's concerns are the inexorable passage of time and inevitable loss, but also what one holds onto – "The things forbidden that while the Customs slept I have crossed to Safety with" – most notably, memories (both heartwarming and difficult), and love.
The two couples meet during the Depression on a college campus in Madison, Wisconsin, where both men – one a wealthy but middling would-be poet, the other a dirt-poor but highly talented aspiring novelist – are happy to have landed hard-to-come-by academic jobs as instructors in the English department. Their pregnant wives hit it off, and the exuberant, dazzling wealthier couple, Charity and Sid Lang, take Sally and Larry Morgan under their munificent wings, helping them out repeatedly in times of trouble, and exposing them to a world they never knew existed.
---