3 YA books just perfect for adults
These young freedom fighters are worthy of readers of all ages.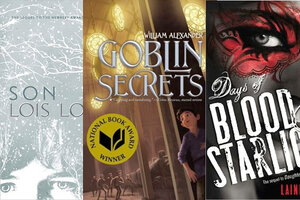 Before Katniss Everdeen ever picked up her bow, a young boy named Jonas saved a baby in Lois Lowry's Newbery winner "The Giver."
Written in 1993, "The Giver" was the novel that moved dystopias from the adult to young adult shelves. When Lowry pitted a 12-year-old boy against a totalitarian government that wanted to kill off everything "difficult" (from colors to emotions to a baby named Gabriel who wouldn't sleep through the night), it marked a shift in teen literature.
Then on the heels of this came another literary revolution. Thanks to the overwhelming popularity of J.K. Rowling's "Harry Potter" series, Stephenie Meyer's "Twilight" series, and Suzanne Collins's "The Hunger Games" trilogy, books originally aimed at teens are now drawing readers of all ages.
When Lowry returned to the futuristic city in "The Giver" this year to tell the story of Gabriel's teenage mother, Claire, she did so in a literary landscape in which hordes of teens are valiantly flinging themselves against corrupt governments of every stripe. Three new YA novels including Lowry's Son – all of which are likely to be equally popular with adult readers – show young people searching for lost loved ones amid corrupt and crumbling societies.
---