Nature Wars
How can we best handle the wildlife now turning up in our own backyards?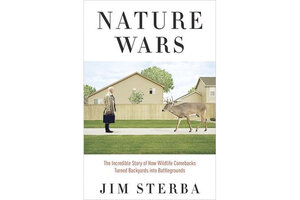 Let's cut to the chase, shall we? As a boy, Jim Sterba didn't shed a tear for Bambi's mother, who famously was killed by a hunter. Today, not just deer but other woodland creatures are in his crosshairs: "It's clear that a lot more of them have to die, especially Bambi's mom and other females, in order to lower their populations in areas where they cause damage."
Sterba, a journalist, is the author of Nature Wars: The Incredible Story of How Wildlife Comebacks Turned Backyards into Battlegrounds, and his thesis is simple: sometimes to help a species – and to keep it from harming other species, including us – nature must be managed. How Americans feel about how, when, and even if this should be attempted takes up much of his second book.
But first Sterba documents how the eastern United States has experienced an ecological rollercoaster during the past century: from deforestation and species decline to burgeoning woodlands and miraculously rebounding animal populations in recent decades. We Easterners – urban, suburban, and rural alike – are a forest people, whether or not we fully appreciate that reality; for example, nearly a quarter of New York City's five boroughs are covered with trees, according to the author. More than 60 percent of Connecticut, the fourth densest state, is under a green canopy. Our neighbors include bears, moose, beavers, coyotes, seemingly incontinent geese, and those aforementioned ubiquitous ungulates. We bump into them all the time. A mountain lion was killed by a car in Connecticut in 2011.
---