Declaring His Genius
In his 1882 lecture tour of the US and Canada, Irish wit Oscar Wilde let his clothing and set design do half the work.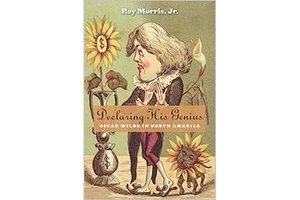 Before he had written anything for which he is now famous, Oscar Wilde was already famous for being himself. He always had the nerve, talent, and wit to create in public the man he was and wanted to be, as depicted in this vignette from Roy Morris Jr.'s biography: "When a customs officer asked him if he had anything to declare, Wilde had supposedly replied, 'I have nothing to declare except my genius.'"
The wittiest man in London was a leading tastemaker when, at the age of 27, he decided to go to America to promote a Gilbert and Sullivan operetta and, more importantly and busily, to lecture on interior decorating. "Have nothing in your house that has not given pleasure to the man who made it and is not a pleasure to those who use it," he instructed, echoing one of his mentors, the critic John Ruskin. "Have nothing in your house that is not useful or beautiful."
As presented in Richard Ellmann's 1988 biography, we were able to imagine the first three-quarters of Wilde's life as a situation comedy. Born in Dublin in 1854, the son of amusing, high-society, Irish patriots, Wilde went on to Oxford ("My Irish accent is one of the many things I forgot at Oxford"), before making his splash in London drawing rooms. By 1882, Wilde had published a book of poems and written a couple of unremarkable plays, as he had not yet decided to become the funniest of English language playwrights.
---