My Beloved World
Supreme Court Justice Sonia Sotomayor tells her story with wit and candor.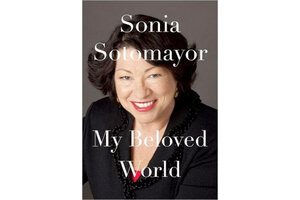 It's hard not to indulge in clichés when describing Sonia Sotomayor. Diamond in the rough. Rags to riches. Working-class hero.
Yes, she ascended from the South Bronx to the US Supreme Court. And along the way, she broke ground for fellow Hispanics and women at Princeton and Yale. But read her new memoir, My Beloved World, and you'll see in Sotomayor a surprising wealth of candor, wit, and affection. No topic is off limits, not her diabetes, her father's death, her divorce, or her cousin's death from AIDS. Put the kettle on, reader, it's time for some real talk with Titi Sonia.
In 1954, she's born to Puerto Rican immigrant parents and grows up in the downtrodden projects of the Bronx. At the age of 8, she's diagnosed with diabetes and is told she must have a shot of insulin every day. Alcoholism has left her father's hands too shaky for the task, so she learns to do the injections herself.
When she's 9 years old, her father's struggles are over – he dies because of health complications. "From here, Mami, Junior, and I would be going along without him. Maybe it would be easier this way," she says.
---