The Big Truck That Went By
Why have well-intentioned foreigners done so little for post-quake Haiti?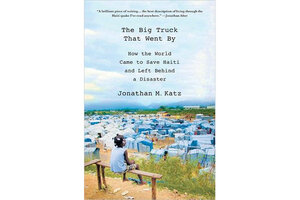 The numbers are not inspiring: Six months after the United States pledged $1.15 billion to Haiti in response to the 2010 earthquake, not one dime had arrived in the country. Three years after the magnitude-7.0 quake, with 100,000 Haitians still living as squatters, a $15.7 million Best Western is one of the country's most significant new building projects.
A book telling only this story would be worth reading. The Big Truck That Went By, by former Associated Press writer Jonathan Katz, does this and much more.
Katz starts with what becomes a parable: the story of a private school called La Promesse ("The Promise"), built in the wealthy Haitian hilltop suburb of Pétionville but attended by kids from the slum below. It was no secret that the school was poorly built. Even before it collapsed in 2008, killing 93 (mostly children), "parents living along the ridge could see what was happening, but they were in no position to complain." Anyway, "most had built their homes the same [shoddy] way."
In fact, most of the country was built that way, as Katz learned firsthand. He was living in that suburb – the only American journalist permanently based in Haiti – when the earthquake struck in January 2010. His retelling of that moment is gripping. He heard a rumble; his bed shook. "Medicine bottles, suntan lotion, and bug spray shimmied on the round black table I always left cluttered because I'd never counted on staying in Haiti long enough to need a dresser."
---