The Barbarous Years
Pulitzer Prize-winning historian Bernard Bailyn's book on the early settling of America is authoritative as well as entertaining.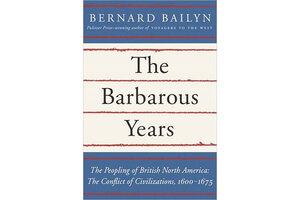 Reviewed by Peter Lewis for Barnes & Noble Review
It is tempting to call The Barbarous Years: The Conflict of Civilizations, 1600-1675, Bernard Bailyn's third volume on the "peopling" of the North American continent – he has already won a Pulitzer for an earlier volume – simply magisterial: sweeping, authoritative, commanding. But it is that and so much more. It has rare scholarly warmth, an understanding of how to be nimble with the material, to be an entertainer as well as a teacher, someone possessing both an easy familiarity with the subject combined with a responsibility – an eagerness – to keep an eye skinned for recent progress in the field, open to history's secrets and surprises, finding the good stuff and steering clear of the fashionable.
And the story here is a brutal one – approximately from Roanoke/Jamestown to the more fixed European establishment of a colonial presence on the eastern American seaboard – marked by occasional acts of dignity and guarded civility. It's all too often a narrative of people fleeing persecution, enduring insanely difficult seaward passages and raw, early months on a new land, then – and critically – trying to recreate the life they knew before, "to normalize an abnormal situation as they wrecked the normalities of the people whose world they invaded."
---