The Pinecone
Jenny Uglow has created a graceful historical narrative about a forgotten 19th-century heroine/visionary.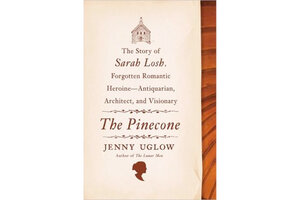 Reviewed by Susan Salter Reynolds for Barnes & Noble Review
Writing history is a challenge beset with pitfalls for the writer. Characters and context vie for center stage. Too much emphasis on characters that shape history, and you've got one foot in Hollywood, the other on a banana peel. Too much context, and the authorial ego fills the vacuum with homemade narrative, trumped-up theories, and sleep-inducing detail (years of lonely, dedicated research). It's an awful lot to ask for both.
But if you love history, if you are a reader who looks to history to understand the present, you understand the thrill of the terms "Forgotten Romantic Heroine" and "Visionary." And you look for the work of writers like Jenny Uglow, who navigates past the temptations and traps of historical narrative with grace in The Pinecone.
Uglow first saw the magical church that Sarah Losh created in 1842 when she was a girl growing up in Cumbria. There it must have sat, as it has sat in the village of Wreay, near Carlisle, in Jenny Uglow's mind, as she layered prizewinning biographies of Elizabeth Gaskell, William Hogarth, the engraver Thomas Bewick, and Henry Fielding (and even A Little History of British Gardening) upon it. But how could she write about Sarah Losh – a profoundly educated woman growing up in Regency England, fascinated by the natural history of her own backyard, the medieval history buried in the stones of her family home in Wreay, and the larger world of mathematics, physics, philosophy, biology, geology, art, etc., etc. – before she (Uglow) had lived and studied and made a name for herself in her own chosen field?
---