Dinner with Lenny: The Last Long Interview with Leonard Bernstein
Jonathan Cott's story of a day spent with Bernstein shows an energetic, gifted musician who was determined not to limit himself.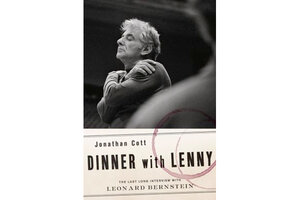 "Don't expect miracles and don't get depressed if nothing happens for a while. That's NY." The advice was offered by composer Aaron Copland to a young Leonard Bernstein soon after Bernstein moved to New York in 1942. Within a year, Artur Rodzińkski, the music director of the New York Philharmonic, had chosen Bernstein to become his assistant. "I have gone through all the conductors I know... and I finally asked God whom I should take, and God said, `Take Bernstein.'"
Apparently, the Lord knew a thing or two about music. Three months after his appointment in November 1943, Bernstein made his conducting debut with the Philharmonic, replacing the ailing Bruno Walter, a celebrated maestro, on a few hours' notice. There was no time to rehearse for the Sunday afternoon performance, and Bernstein was hung over, anyway – the result, he recalled, of "carrying on like mad" at a reception the previous night.
Bernstein's enormously successful debut with the Philharmonic is now legendary as his colossal talent carried him through the afternoon concert, which was broadcast across the country. Later, Bernstein claimed to remember none of it, from the time he strode onto the stage until he walked off. "It was all a dream." But one of the orchestra's violinists remembered the performance, calling him "the most extraordinary musician" he'd ever met. Even the orchestra cheered.
More than 40 years later, in 1989, toward the end of Bernstein's illustrious career, Jonathan Cott, a contributing editor at Rolling Stone and the author of numerous books, had the opportunity to interview the maestro at Bernstein's country house in Connecticut. And make no mistake: the conductor did not squeeze him in for 15 minutes on a busy day. Cott was there for 12 hours, listening, drinking, eating, and, by the sound of it, having a heck of a time. As one might imagine, Bernstein was good company, whether he was singing along to one of his old recordings, filling your vodka glass, profanely slamming Richard Nixon, or discussing music.
Beyond his extraordinary skill as a conductor, what was always most compelling about Bernstein – and Cott's volume vividly conveys it – was a boundless energy and a resolute unwillingness to limit himself to leading the world's great orchestras. He would not be like Toscanini, he declared, "studying and restudying the same fifty pieces of music. It would bore me to death."
---