The Painted Girls
Cathy Marie Buchanan spins a clear-eyed and heartfelt account of the seamy side of La Belle Époque in Europe.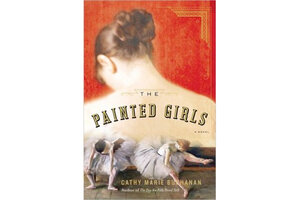 Reviewed by Veronique de Turenne for Barnes & Noble Review
It was from the grim and blood-soaked wreckage of post-World War I Europe that historians looked back and named the preceding decades La Belle Époque. A thirty-year span of peace and economic stability, art, and science had flourished, even as the second half of the Industrial Revolution set the scene for the era's sudden and brutal end. Artists and intellectuals like Émile Zola, Sigmund Freud, Marie Curie, and Sarah Bernhardt helped to upend the status quo. With progress and optimism elevated to a form of faith, movements like Impressionism, Postimpressionism, Symbolism, and Art Nouveau found fertile ground.
This is the world author Cathy Marie Buchanan puts on canvas in her second novel, The Painted Girls. A clear-eyed and heartfelt accounting of the seamy side of that gilded age, Buchanan gives voice to the historic figure of Marie van Goethem, one of the ballet girls who obsessed painter Edgar Degas.
---