Consider the Fork
Bee Wilson outlines the history of kitchen technologies with wit and skill.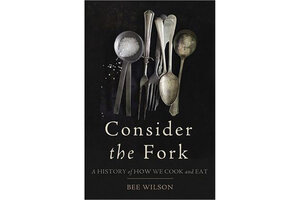 Today's home kitchens gleam with sub-zero chrome refrigerators, store ice cream and pastamakers behind cabinet doors, and display at least three kinds of appliances that purée or brew. Yet it is safe to surmise that even the best appointed also has at least one humble wooden spoon.
There is nothing fancy about a wooden spoon – no flashing lights or neon colors. And yet, as kitchen gadget fads come and go, nothing seems to replace the feel of a smooth wooden handle nestled in the palm stirring over a stovetop. Why is that?
Bee Wilson in her book, Consider the Fork: A History of How We Cook and Eat, strives to answer this and other kitchen curiosities by tracing the evolution of kitchen technologies and the cultural influences that shaped them. "The foods we eat speak of the time and the place we inhabit," writes Wilson. "But to an even greater extent, so do the tools we use to make and consume them."
As glossy-paged cookbooks, online recipe sites, and razzle-dazzle cooking shows continue to feed imaginations hungry for mouthwatering dishes, Wilson turns her attention beyond the what (ingredients) to the how – to the actual tools that slice and dice and eventually lift food to our mouths.
Wilson is an award-winning British food writer who skillfully turns a potentially dull subject into one of wit and wisdom. Nor does she lose touch with the human element that has drawn so many into the world of cooking and the universal subject of food. After all, a knife is only as good as the cook who wields it.
---