Standing in Another Man's Grave
Scottish detective John Rebus returns for another atmospheric mystery.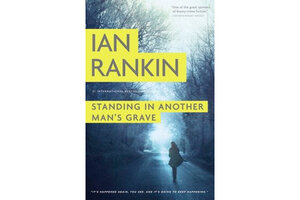 Reviewed by Anna Mundow for Barnes & Noble Review
Edinburgh: rain, sleet, grayness; cigarettes and whiskey; cops and villains; the dead and the damaged. Ian Rankin did not invent this world (he acknowledges the influence of, among others, James Kelman), but he certainly immortalized it when he created Detective Inspector John Rebus, the investigator with the warhorse body and brooding mind who seemed to personify his city's toughness. Rebus first appeared in "Knots and Crosses" in 1987, and seventeen Rebus novels followed before Rankin retired the aging cop twenty years later. Like Henning Mankell's Kurt Wallander, Robert Wilson's Javier Falcon, and other noble loners, Rebus was dispatched to the shadows. But now he's back. And Rankin, following a detour into more sensationalist fiction, has also returned to the restrained style and quotidian pace that distinguished the finest Rebus novels.

The first sentence of Standing in Another Man's Grave is characteristically sly: "He'd made sure he wasn't standing too near the open grave." This is not Rebus the cop surveying a murder scene but Rebus the civilian attending the funeral of a former colleague. "[G]et the gold watch, and soon after they're on the slab," a fellow mourner cheerfully observes. Officially retired, Rebus inhabits a different kind of netherworld. Employed by the Cold Case Unit, he works "with the long dead, murder victims forgotten by the world at large." Rankin, at his best, is a master of economical description and laconic dialogue and in these early chapters he creates a pungent atmosphere of weariness, defeat, and nostalgia. "[S]omebody thinks they got away with it... knows they got away with it," Rebus is reminded each time he undoes the binding on an unsolved murder file.
---