Coolidge
Amity Shlaes offers a fresh perspective on the 1920s and "Silent Cal," but infuses her narrative with ideology.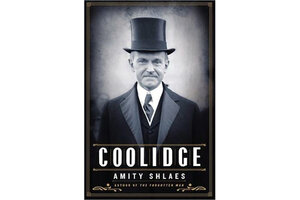 In Coolidge, conservative journalist Amity Shlaes gives us a hefty, well-researched, contrarian tome about Calvin Coolidge, the man of few words who ruled the nation during much of the roaring '20s. Unfortunately, whether you like it will depend on what you believe about macroeconomics.
"Our modern economic lexicon and the theories behind it cannot capture Coolidge's achievements or those of his predecessor, Warren Harding," Shlaes writes. "It is hard for a modern student of economics to know what to make of a government that treated economic weakness by raising interest rates 300 basis points, cutting tax rates, and halving the federal government."
Shlaes is right – it's very hard, especially if you are one of the students she dismisses. In high school, I learned that a poll of historians designed by John F. Kennedy acolyte Arthur Schlesinger Jr. rated Harding's presidency a "failure" and Coolidge's "below average"; that Harding was corrupt; that Coolidge, who took Harding's place when he died in 1923, fostered an economic bubble that ended with the Great Depression; and that John Maynard Keynes's prescription for fighting economic downturn – tax during a boom, spend during a bust – works.
---