The Myth of Martyrdom
Suicide bombers are the opposite of brave, argues Adam Lankford.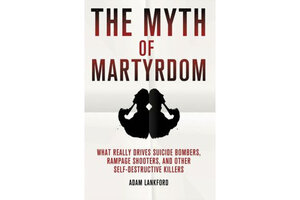 A week after the Sept. 11, 2001, terrorist attacks, comedian and political commentator Bill Maher said Mohammed Atta and his fellow conspirators were not cowards for their actions.
"We have been the cowards, lobbing cruise missiles from 2,000 miles away. That's cowardly. Staying in the airplane when it hits the building, say what you want about it, it's not cowardly," Mr. Maher said on his show "Politically Incorrect," then on ABC.
It was a highly sensitive time, and the comments were seen as anti-American by many; Maher's show was suspended and subsequently canceled by ABC.
Though he does not address the incident with Maher in his new book, The Myth of Martyrdom: What Really Drives Suicide Bombers, Rampage Shooters, and Other Self-Destructive Killers, Adam Lankford would assuredly disagree with Maher's contention that Atta – or any suicide bomber – is somehow brave.
"[F]ar too many commentators have taken this a step too far, concluding that because suicide terrorists do what we are afraid to do, this makes them brave.... [S]uicide terrorists have a dirty little secret. They're afraid too – but of life," writes Lankford, an assistant professor of criminal justice at The University of Alabama and a former adviser to the US State Department's Anti-Terrorism Assistance program.
Lankford examines the personal stories behind numerous suicide bombers, school shooters, rampage shooters, and workplace shooters. Atta is examined in his own chapter, and the Columbine shooters, Dylan Klebold and Eric Harris, are discussed at length.
---