Out of Order: Stories from the History of the Supreme Court
Sandra Day O'Connor's new book steps a bit too carefully through any and all political minefields.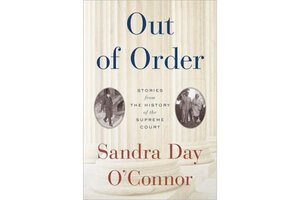 In many respects, or at least in spots, Sandra Day O'Connor's fifth book – her second dealing with the Supreme Court – is useful and engaging. The average reader will learn much from the former Supreme Court Justice who was the first woman to serve on the nation's highest court.
On the other hand, Out of Order: Stories from the History of the Supreme Court is disappointing in that it breaks no new scholarly ground and studiously avoids wading into current or even historical controversies, such as the widely held belief that the court has become increasingly politicized in recent decades. The fact that 75 percent of Americans believe the justices make decisions based on their personal and political views, rather than objective legal analysis, is among the substantive issues not mentioned.
This book is all about the facts, just the facts. In the beginning, in 1789, the Supreme Court was smaller (six members), had no neoclassical building to call home, and, frankly, didn't have a whole lot to do. It heard no cases in its first four terms. Justices were appointed and often bolted as soon as something better came along. John Rutledge left to head the South Carolina Court of Common Pleas. Had justices not been required to "ride the circuit" of federal district courts – literally, on horses – our highest court might have dissolved from acute boredom and irrelevance.
The reason for this slow start may be that the original intent of the drafters of the Constitution of the United States is decidedly vague. That august document addresses at length the powers of the Executive and Legislative branches in Articles I and II, but mentions the "supreme Court" in only a few rather unspecific sentences within a relatively brief Article III, which expounds on the Judiciary. Our highest court was clearly the tail of the federal dog.
---