Storm Kings
Lee Sandlin offers a compulsively readable history of America's first tornado chasers.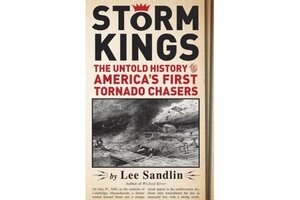 When settlers first ventured into the wilderness west of the original 13 American Colonies, they encountered a strange phenomenon. In the silent woods, they found strips of flattened and downed trees, often in paths several hundred yards wide and miles long. The settlers called them "wind roads," and blamed them on the Storm King, a mythological figure who, according to early American folklore, galloped through the night skies amid bolts of lightning and wicked storm clouds.
The awe and terror that American weather inspired in early settlers is one of the most compelling motifs of Lee Sandlin's compulsively readable Storm Kings: The Untold History of America's First Tornado Chasers. The book is both a history of America's relationship with violent weather and the story of the scientists and meteorologists who sought to understand and ultimately predict the storms of the American heartland. Like much of the history of science, the story of this quest is rich with controversy.
Sandlin begins with Benjamin Franklin, who first realized that weather moves from west to east in America; who first identified tornadoes as a specific type of storm; and who once followed a funnel cloud through the Pennsylvanian wilderness. But the study of tornadoes became more contentious in the 19th century during the so-called storm wars, when James Espy, America's first meteorologist, and weather enthusiast William Redfield engaged in heated public debates about the nature of tornadoes.
Sandlin's story is in some respects a history of bureaucracy. During the Civil War, the government formed the US Army Signal Corps to foster communication on the battlefield; when the war ended, the corps became the first national weather bureau and issued the first national forecasts in the 1870s. But later in the century, the personalities who led the corps ran afoul of Secretary of War Robert Lincoln, which eventually led to the military losing control of the bureau and the creation of a civilian national weather service.
---