Harvest
This atmospheric tale begins with an 18th-century village in flames and builds to a soaring drama.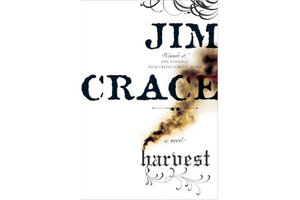 Reviewed by Anna Mundow for Barnes & Noble Review
The narrator of Jim Crace's new novel, Harvest, introduces himself and his neighbors as plain, quiet folk. "We're not a hurtful people hereabouts," Walter Thirsk declares of an 18th-century community that is "…two days by post horse" from the nearest market town. Before summer has turned to fall, however, Walter's isolated English village will be convulsed by murder, rape, and mutilation. The land he loves will be home no longer.
This brooding tale opens innocently enough. "Two twists of smoke at a time of year too warm for cottage fires surprise us at first light," Walter observes. One comes from a strangers' encampment, the other from the village lord's dovecote, maliciously set alight. The fires will have dreadful consequences, but Crace lets the machinery of tragedy idle while he describes the nature of each. "Their fire is damp," Walter notes of the encampment's signal. "They will have thrown on wet greenery in order to procure the blackest plume, and thereby not be missed by us…." Master Kent's dovecote blaze, by contrast, consumes "…ancient wood. Long-felled. The years are in its smell." In a few brief sentences, Crace reveals not only what these people see but also how they see it (or smell it). Describing a summer night, a velvet shawl, a field of barley, or a skittish horse, he compels us to view this world through pre-modern eyes, slowing the narrative to walking pace as he ratchets up the tension.
---