C.S. Lewis: A Life
On the 50th anniversary of his death, this new C.S. Lewis biography succeeds in deepening the appeal of his works.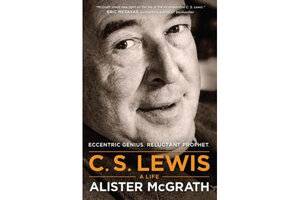 When C.S. Lewis died in England on Nov. 22, 1963, the world took little notice. President John F. Kennedy had been assassinated on the same day, and most people focused on the slain American leader instead. Also diminishing attention on Lewis' death was the decline of his literary reputation at the time. Amid the rapid cultural changes of the 1960s, Lewis seemed to many a man of yesterday.
What a difference five decades make. Today, Lewis appeals to thousands of readers around the world for his philosophical books about Christian faith, his science fiction tales, and highly allegorical children's stories such his Narnia chronicle, beginning with the iconic fantasy, "The Lion, The Witch, and the Wardrobe."
This year's 50th anniversary of Lewis' death promises to raise even more awareness of a popular apologist for Christian doctrine. In conjunction with the anniversary, author Alister McGrath has released a new C.S. Lewis biography, with a companion volume on Lewis' thought due out later this year.
C.S. Lewis: A Life follows in the footsteps of several other Lewis biographies, some of them penned by friends and acquaintances of the famous writer. "Unlike his earlier biographers ... I never knew Lewis personally," McGrath tells readers. "I have no illuminating memories, no privileged disclosures, and no private documents on which to draw.... This is a book written by someone who discovered Lewis through his writings, for others who have come to know Lewis in the same way."
---