Comandante
Venezuelan president Hugo Chávez was 'this close' to being a dictator.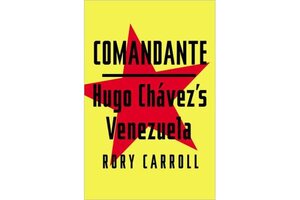 Venezuela is a decidedly challenging place: to live, to describe, to wholly understand. And in the 14 years of Hugo Chávez's presidency, the contours of the oil-rich Andean nation have become ever more gray and blurred.
There was the good under Chávez: poverty fell, literacy improved, and the poor and long-ignored were given a voice. And then, of course, there was the bad: violence more than doubled from 1998 to 2012, infrastructure crumbled, inflation rose to become the highest in the Western Hemisphere, and democratic institutions were weakened and in some cases trampled.
In one of the more revealing scenes in Rory Carroll's engaging, highly readable Comandante: Hugo Chávez's Venezuela, Carroll takes the readers to a ranch in the plains region, where he introduces César García, a landowner who initially voted for Chávez "to shake things up."
Mr. García's employees voted for Chávez, too, and during his first year in office there was a shared optimism. But slowly the rancher started to feel edged out of the conversation. "Chávez spoke of the nation being reborn 'para nosotros,' for us, and the revolution being 'para todos,' for everybody.... [But] there was a shift in the president's tone, a creeping defensive bellicosity." Suddenly, García, as a landowner, had become "them."
"García looked with alarm at his laborers, his childhood playmates who never had his privileges and now craned their necks toward the radio to better hear the president. Did they see him that way? An exploiter? How dare Chávez do this!... César García became what Chávez said he was: an enemy of the revolution."
Scenes like this convey the small, tectonic shifts beneath Chávez's revolution.
---