The Secretary: A Journey with Hillary Clinton from Beirut to the Heart of American Power
A BBC correspondent offers an admiring insider's look at Hilary Clinton's tenure as America's top diplomat.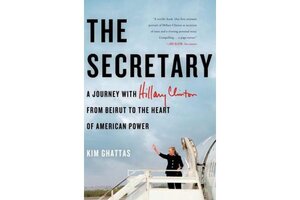 The Secretary: A Journey with Hillary Clinton from Beirut to the Heart of American Power, Kim Ghattas's memoir of her time as part of the press corps that traveled with Hillary Clinton during Clinton's tenure as secretary of state, provides a unique and compelling look both at Clinton as a person and at the US diplomatic process.
Ghattas, a BBC correspondent, is half Dutch and half Lebanese, and grew up in Beirut during the '80s, when the country felt abandoned by a US government that allowed, or possibly even encouraged, Syria to invade. The book derives much of its strength from Ghattas's slowly coming to terms with the complexity of US diplomatic relations. For as much as many countries – particularly in the Middle East – resent any American intervention, Ghattas finds that just as often others become angry when the US does not intervene.
Her growing sense of how difficult it is for the US to be the superpower responsible for keeping everyone happy develops alongside Clinton's mission as secretary. The book proves to be very sympathetic to the US diplomatic process, and in particular to Clinton, who here is portrayed as charming, well-intentioned, and – most important to Ghattas – honest.
The dominant feeling some readers may experience in reading this book is a sense of exhaustion. Ghattas documents several of the high-wire-act diplomatic trips Clinton took around the world over her four years in office. The press corps and Clinton and her team flit from place to place on an old government plane, often not even staying in destinations overnight, and working incredibly long days. For security reasons, the press corps often didn't even know where they were going until they got to the plane.
For one trip, they were given only vague instructions about which colors they were forbidden to wear. That particular trip turns out to be a visit to Burma to meet with newly flexible members of the military junta in charge, but more importantly, with long-imprisoned pro-democracy advocate Aung San Suu Kyi. The meeting of the two women, contemporaries, who have both devoted their lives to service to their countries, is easily the emotional high point of the book. By the time the visit occurs, Ghattas has crafted her portrayal of Clinton so well that it is immediately apparent how much such a meeting would mean to Clinton, both as a tangible result of her pragmatic approach to diplomacy and as an opportunity to meet someone fighting many of the same battles.
---