The Book of My Lives
From Sarajevo to Chicago, Aleksandar Hemon tells the engaging story of his many lives.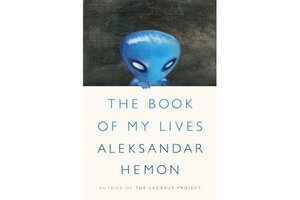 Aleksandar Hemon's The Book of My Lives is a series of mostly chronological autobiographical essays, beginning with his youth in Sarajevo and moving on through his life as an adult in Chicago.
Hemon, a "New Yorker" contributor who has primarily written fiction outside the magazine, casts an amusingly jaundiced eye back at his younger self. It's somewhat unexpected, given the still-vivid memories of the violence that took place in Sarajevo, but it turns out that, even in the face of political and social catastrophe, a country can still be filled with feckless youths who believe that every action they take is the most radical and exciting action ever.
In these essays, Hemon manages to write about his own younger days in a way that makes them both uniquely his own, but also universal.
Not everyone has a themed anti-fascism or maybe accidentally pro-fascism birthday party, as a friend of his does, but almost everyone can remember being just as opinionated when they were young. In the US, of course, many of us may recover from an embarrassing party in the wake of a few goofy Facebook photos.That Hemon's fascism party ends with the state police questioning him about his commitment to the country is the particularly Bosnian wrinkle to the story.
The essays, written for a series of different publications, can sometimes shift tonally. Early essays about Hemon's gang of childhood friends are so lighthearted as to be almost a little frivolous. Hemon's amusement at his own childhood might be a little greater than the reader's. Fans of Hemon familiar with past work like the heartbreaking "The Lazarus Project" might be a little surprised to see how much of a teddy bear the author appears to be in real life.
This isn't to say he skirts serious topics. An essay about his love of and lack of skill in chess touches on fatherhood, both in his relationship with his own father and through the story of one of his chess companions, whose son was shot in the street during the Islamic Revolution in Tehran. Yet overall the tone of the book is not one of pessimism or despair. Despite a life that has seen his family displaced and his childhood home ravaged nearly beyond repair, Hemon seems to remain mostly good-humored.
---