Stalin's Curse: Battling for Communism in War and Cold War
This well researched book portrays Stalin as a psychopath with a deep and abiding commitment to spreading communism across the globe.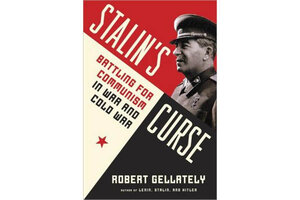 For much of the second half of the 20th century in the United States, Republican politicians had an advantage on the vital issue of national security. That electoral edge began in large part in February 1945. That was the month of the Yalta Conference, the last summit of World War II at which all the Western allies participated. It was at that meeting, Republicans charged, that Democratic president Franklin Roosevelt ceded control of Eastern Europe to the Soviet Union.
Florida State University historian Robert Gellately repeats this myth in his well-researched but flawed new book Stalin's Curse. Here, Gellately argues that Soviet leader Joseph Stalin was impervious to diplomacy at Yalta or anywhere else. "Marxist-Leninist ideology as interpreted by Stalin drove the men at the top," he writes. "The Soviets invariably took Roosevelt's efforts to be friendly or accommodating as demonstrations of weakness."
Gellatedly is the author of several books on Nazi Germany and one on the era of Lenin, Stalin, and Hitler. His grasp of the literature is tremendous, especially his expertise with the Soviet archives. I know of only two or three other books that can rival "Stalin's Curse" in terms of its penetrating use of Russian sources.
That erudition has led Gellately to conclude that Stalin "was or became a psychopath" with a deep and abiding commitment to spreading communism across the globe.
The book begins with Stalin's ascent into Soviet politics, after a career as a thief and underground revolutionary. His consolidation of power within the Soviet state foreshadowed his brilliance in power politics at the international level. Most of the book is committed to recounting Stalin's experiences in World War II and the Cold War, closing with his death. Since Stalin was the Soviet state in a figurative and sometimes literal sense, "Stalin's Curse" also in effect functions as a history of the Soviet Union from 1939 to 1953.
---